Parkland Products
Welcome to the exciting new world of Join-T-Lock outdoor structures innovatively developed and specifically designed for Councils, National Parks, and developers etc. Join-T-Lock Pty Ltd has operated out of Albion Park Rail and Wollongong now for 7 years providing a high quality of service and high quality low maintenance products to such Councils as Shellharbour, Wollongong, Kiama, Bankstown, Sutherland, Kogarah, as well as Landcom and other private developers and National Parks, Land & Water Conservation etc.
These new-age products which comply with all Australian Standards and Building Code requirements have already proven a valuable asset for our clients because of their obvious durability, minimal if any maintenance and impressive retention of their unique and comforting aesthetics.
Join-T-Lock is a revolutionary method of fencing characterised by the joining of naturally strong true round treated pine logs in the one plane. The joint consists of a hot dipped galvanised metal dowel which is pre-positioned inside a borehole within the logs, and injected with a waterproof epoxy resin thereby encapsulating it against the elements.
You get value-for-money with all Join-T-Lock products because of its:
New MSDS Available
Latest MSDS sheets for download include Koppers CN Emulsion, Osmose Reseal and Orica Natural Stain more....
New Sign and Tree Guard products launched.
Brand new designs for Join-T-Lock signs boards and tree guards have just been launched more...
Super strength water proof joints - which have no exposed fasteners to rust. Little or no maintenance is required and their foreseeable life expectancy exceeds that of the logs.

Guaranteed service life of the treated pine logs allows the evolution of a multitude of Join-T-Lock products that will last well into the future.

The service life of our products far exceeds that of our competitors.

Safety is inherent by design - with the rounded timber having no sharp edges or corners and the super strength internal waterproof joint having no protruding or external joining system to rust , weaken and potentially injure. Public safety is never compromised.
Environmental friendliness is again inherent with the Join-T-Lock system.

Plantation pine is minimally processed (true rounded) and treated for pests and fungi with ACQ salts (ammoniacal copper quaternaries - AS1604). These salts contain no aresinec and no chromium and can be freely used in rainforests, eco-sensitive areas, beaches, children's playgrounds etc.

Maintenance is minimal. A renewal of the timber preservative water repellant coating used

(Intergrain Dimension 4 ) is required every 2 - 4 years depending on aging conditions (aesthetics).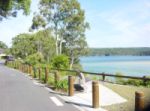 Join-T-Lock Full Product Brochure available for download.
Click here to download the full Join-T-Lock products brochure, which includes fencing solutions and parkland products.